Speech
Speech on Corruption for Students and Children in 500+ Words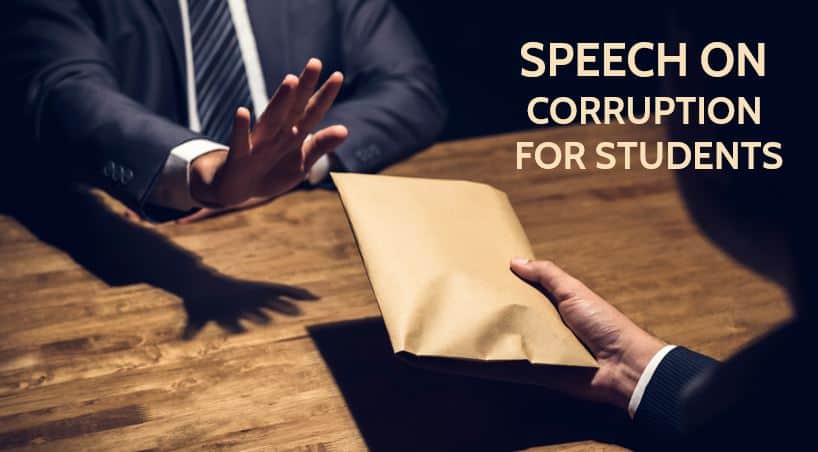 In this article, we have published a Speech on Corruption for Students in 500+ Words. People can also use this speech on International Anti-Corruption Day celebrated every year on 9 December.
So, Let's start the speech…
Speech on Corruption (500+ Words)
Dear Staff and Students,
According to Aljazeera news, more than $ 1 trillion is stolen from developing countries each year. This large amount is difficult to understand. We cannot envision what it would be.
It is easy to imagine what such a massive amount of money can do for developing countries' infrastructure. It is easy to imagine full streets without foggy traffic jams, but shiny commuter trains take people back and forth to their offices or large, modern hospitals to replace nearby medical checkpoints.
The stolen money usually designed to provide ordinary people with the necessary amenities to improve their daily lives. A few people end up in their pockets to take the money and get rich.
Also read: Essay on Corruption
To understand corruption, we must look at possible causes:
1. An atmosphere of personal greed and disregard for religious morality or law among colleagues and friends. Ignoring right and wrong.
2. A weak legal system that allows criminals to overcome corruption allows the temptations of crime.
3. If the fellow-citizens and those in the traditions of corruption are corrupt for me, then I must take my loss by insulting others.
4. Mafia defense creates frustration in some states where the citizen feels helpless, and the habit of corruption spreads to the population.
5. There is a difference between countries with a democratic past, countries that have traditionally dealt with corruption, and former socialist countries where corruption has become a "thank you" in the state and is ideal for service.
6. Poor educated and poor financial infrastructure is vulnerable to corruption in poor developing countries.
7. The desire for power and influence. It is common during elections where politicians seek power. High-powered entrepreneurs are more likely to pay for campaigns instead of subsidies. It takes a series of steps for the illiterate poor who bribed to vote in some countries.
8. High inflation: High-inflation economies with low-wage government officials create an environment where some politicians resort to accepting bribes and undocumented gifts.
What is the answer?
Corruption can never be eliminated, nor can other serious crimes be excluded from society. Even if fraud is curtailed, cases are reduced, and criminals been punished; there is still corruption outside. Encouraging good behavior in political office and enforcing the law should be the cornerstone of the problem.
Financial management and clarity are a crucial part of reducing corruption. It is essential to disclose budget information. It prevents wastage and misuse of resources.
Pupils and parents in emerging countries can fight corruption at a more local level. The first way they can combat corruption and competition in schools is to start anti-corruption programs, for example, to compete with school resources, make sure accounting, not employ teachers, and oppose privacy.
They can be seen to bend research results for personal gain. In this way, universities can increase the efficiency of their operations and provide better services and reduce unnecessary costs.
Corruption destroys a country's reputation and reduces the investment opportunities that every country needs. It can harm foreign prospects. Corruption is a problem that all countries have to deal with, starting with a domestic solution.