In this article, you will read a poverty essay for students and children in 1000 words. This includes meaning, situation in India, causes, effects, reducing ideas, and 10 lines about poverty.
Let's start this Poverty Essay…
Poverty Essay in English (1000 Words)
Poverty is a state or condition in which an individual or the entire community doesn't have the financial resources and the basic essentials required for a standard of living. 
The essentials for a minimum standard of living are absent in this case. In this state, the income level of the individual is so low that their basic human needs can't be met. 
Many reasons are there for this huge amount of poverty in India, but in short, the population explosion, the increase in prices, the debt trap, lower agricultural productivity, and the lack of proper government development are the sole reasons for it. 
These factors have increased the poverty level and have also increased the gap between the rich and poor. The poor keep getting poorer, whereas the rich become more prosperous.
This has further caused the problem in the Indian economy. Poverty not only affects a single individual, their family, or their community, but it overall affects the economy of the country. 
Overall, the Indian economy depends on the output produced, and poverty decreases efficiency in such cases. 
What is Poverty?
Poverty is the condition of being extremely poor for a human being. In this condition, the individual starts to lack the basic important things in their life: a roof over their heads, necessary food, medicine, clothes, etc., to continue their life. Several reasons for the cause of poverty are possible. 
Poverty in India comprises low income and the inability of an individual to acquire the basic goods and services necessary for his survival with dignity. It also encompasses the low levels of health and education. 
It also encompasses poor access to clean water and sanitation, inadequate physical security, insufficient capacity, and the opportunity to have a better life. 
Poverty has become one of the biggest social issues in India. It severely affects a significant part of the Indian population. Population booms, migration to cities in search of work, and rampant unemployment are some of the major reasons for the growth of poverty in India. 
An increase in the literacy rate and providing sustainable living conditions for the poor are some of the ways in which poverty can be curtailed to some extent. 
Poverty Situation in India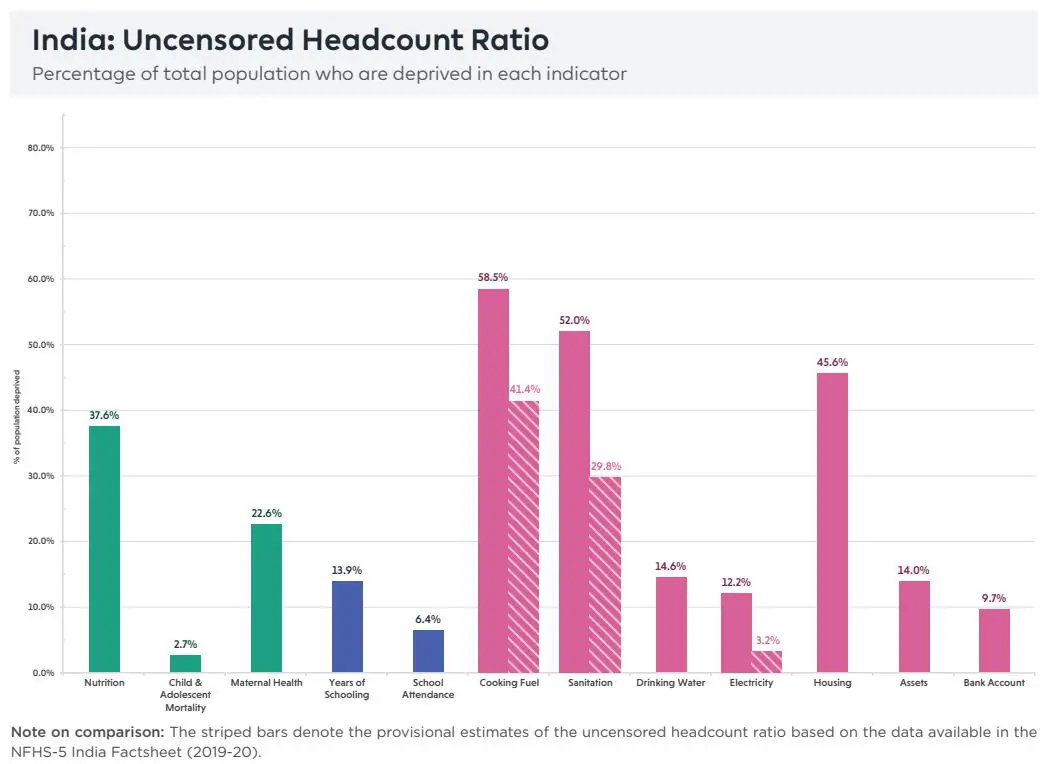 India is one of the world's largest democratic countries, and its economy is growing at a faster rate. It's one of the chief developing nations with an international level of influence. 
Yet, still, it is seen as a poor country. Poverty in India is one of the major issues that every country faces. 
India has a large population that is below the poverty line. That's the reason that makes it a poor country. Even after 74 years of independence, we are still struggling, and poverty has plagued our nation. The poverty level in India is very high, and it affects the development of the country. 
Central and state governments have successfully collaborated with many of the private and public sector organisations to deal with this situation. Their main agenda is to eradicate poverty in India completely. 
Together, they have been able to roll out some successful schemes to eradicate this major problem to a certain extent and keep their citizens satisfied. 
They are trying their best to provide every individual with basic requirements. This task has not helped remove poverty in India. This is India's worst situation ever, and it can't be solved by judging it by its face value. 
Therefore, it becomes very essential to understand the nature of polity in India through a historical context. That is why we can find reforms that could be implemented to curb this social evil.  
Cause of Poverty in India
Poverty is a dreadful problem in human life. Poverty is just like that of an enslaved person who cannot do the things he wants. Poverty has many faces, which keep on changing according to place, time, and person. 
A person defines it in many ways as they live and feel in their life. It's a condition that no one would like to experience, although it has to be carried out due to nature, custom, lack of proper education, and natural disasters. 
India has always had a rich history, from ancient times to the Mughal era. Historians call this place the "Golden Sparrow." It has a vast reserve of gold and other resources.
But over time, the invaders plundered these resources, and the economic health of this country slowly started deteriorating.
The Colonials are solely responsible for the major and significant damage done to this country. They entered as traders and slowly started to occupy a monopoly on various sectors. 
Poverty in India bloomed in the British Raj during the 19th and 20th centuries. The expansion of industries and agricultural exports are increasing day by day. Farming was forced on most individuals who were not farmers by profession. 
Due to British exploitation, workers could not afford a proper meal for the day. By 1943, poverty had reached such a stage that people were starting to die due to starvation. According to Sir Antony MacDonnell, people die like flies due to starvation. 
Effects of Poverty in India
Its effects are far-fetched. Overall health condition is merely affected due to this. Further, these people are even malnourished. Balanced and nutritious diets are absent from much of the food children eat. 
As a result, their immune systems are merely affected, making them prone to several ailments. It makes them susceptible to anaemia, cardiac issues, poor vision, etc. 
A recent study reveals that nearly 40 out of every 1000 infants die within a year of age. A poverty-ridden society is more vulnerable to violence and crime. Poor people indulge themselves in criminal activities to feed themselves. 
Homelessness is a typical issue associated with poverty in India. This ultimately risks the safety of the woman, and it also promotes child labour in India. It also led to the development of terrorism. 
How to Reduce Poverty in India?
It's not a problem that can be resolved in a week or a year. The eradication of poverty requires careful planning from the country's government to implement some of the policies that cater to the population falling below the poverty line. 
Illiteracy and unemployment are the other two factors contributing to poverty in India. This issue can only be tackled with proper education and financial support. 
Access to education can promote higher education, and higher education can increase the employability of such individuals. In this way, poverty can be elevated as the individual starts earning. Education is the most effective way to combat poverty in India. 
Following features must be taken to eradicate poverty in India-
GOI should invest in the poverty-stricken area.
Increasing the employment opportunities in India.
Skilled training must be provided to the illiterate labourers.
Free education and health care should be provided.
The public distribution system must be effective in its duties. People who are below the poverty line must be able to access free food and fresh water. 
The growing population must be checked. Several schemes that promote birth control must be implemented. 
Proper agricultural resources must be provided to farmers. In this way, their profit can also be increased. As a result, they will not migrate to the urban regions in search of food. 
10 Lines on Poverty Essay in Hindi
It's a situation in which a person is unable to fulfil their basic needs. 
There are six types of poverty: situational, generational, absolute, relative, rural, and urban. Situational poverty is temporary in nature and is due to a loss or crisis.
Poverty is linked with negative conditions such as homelessness, food insecurity, inadequate child care, etc.
A rapidly rising population is the sole reason for this poverty. 
India is a country with the highest population living below the poverty line.
According to the Niti Aayog report, 25% of the population of India is poor. 
States like Jharkhand, Bihar, and UP have the highest poverty in India.
Twelve indicators are used for the national MPI measurement.
7% of the Indian population is living in extremely poor conditions.
A small percentage of Indians, i.e., 0.6%, are escaping the extremely poor conditions every minute. 
Conclusion
Poverty is that problem of human life, in which those suffering from it are unable to get even the basic facilities in life. The government and various NGOs have taken many measures to reduce poverty. So, the standard of living around India can be improved.
I hope you liked this informative poverty essay for students.